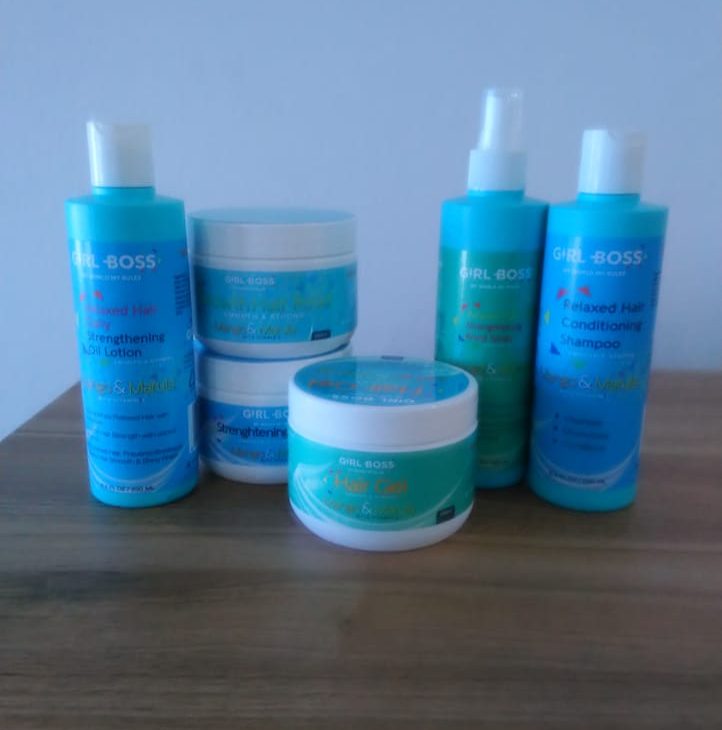 I recently received Girl Boss hair products to put to the test. The products were specifically for relaxed hair. I have been wanting to try these products out for some time now, so I was very excited when they came in. Now am going to be honest, I am not a person that usually tries out hair products, just because I very fussy about what goes in my hair. Once I like certain product's I like to stick to them for some time before changing them.
I received the conditioning shampoo, Daily Strengthening Oil Lotion, Growth Hair Food, Strengthen Hair Mask, Daily Strengthening Hair and Braid Spray and hair Gel. I took all my products and went to go test them out at the salon for my hair wash day.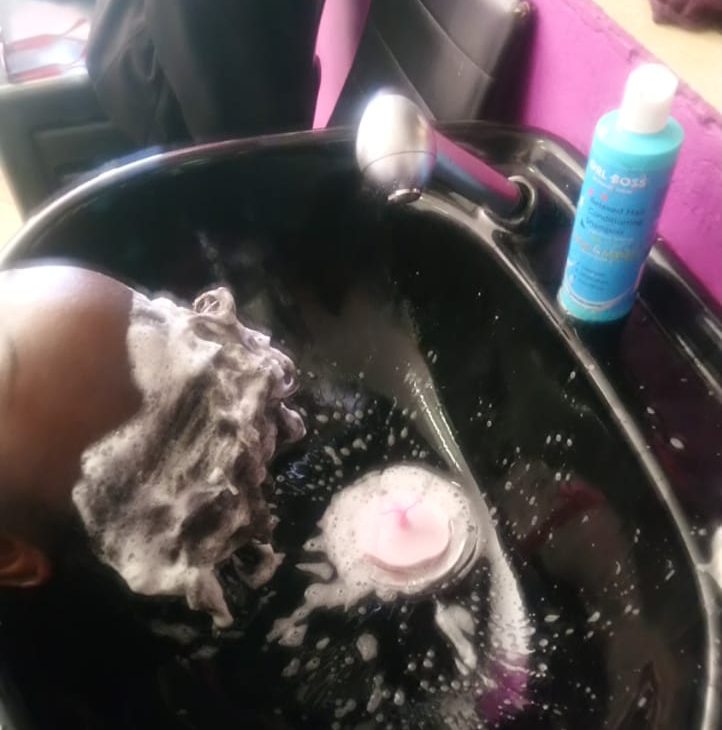 I love the concept of using a conditioning shampoo, because if you remember back then it was a thing to have both shampoo and conditioner in separate bottles. So, the idea of having to only use one product which fulfils both as a shampoo and conditioner to me is bonus! The conditioning shampoo aims to cleanse, moisturise and condition hair. The smell is amazing. We washed my hair with this product 3 times and on applying product onto my hair it felt amazing while washing.
Ingredients in the conditioning shampoo: Deionised Water, Decyl Glucoside, Vegetable Glycerine, Mangifera Indica (Mango Butter), Lauroyl Lactylate (Lactic Acid), Butyrospermum Parkii (Shea) Oil, Sclerocarya Birrea (Marula) Oil, Hydrolysed Keratin, Panthenol (Pro-Vitamin B5), Stearic Acid, Caprylyl Glycol, Tocopherol (Vitamin E), Phenoxyethanol, Parfum – (Information taken from Girl Boss Website)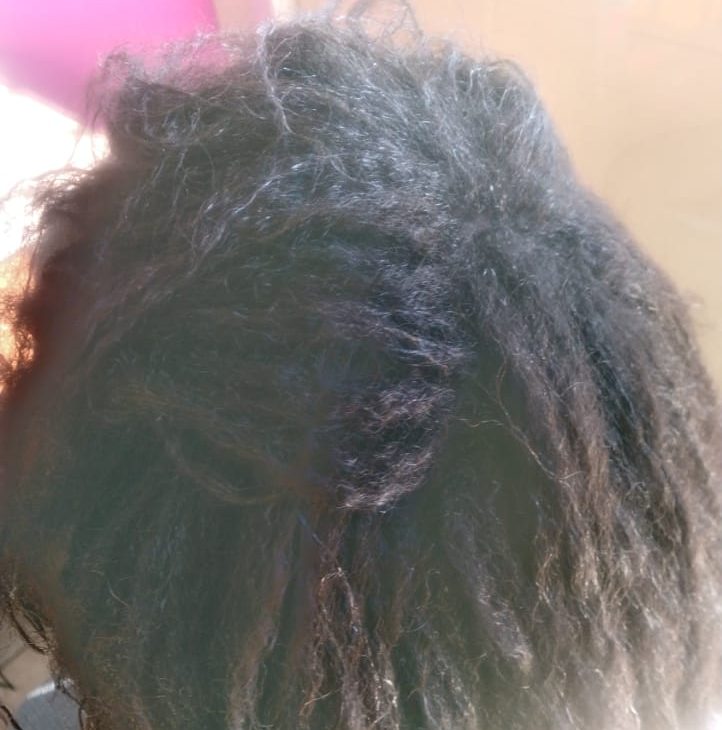 After washing we then dried my hair using a towel, we then applied the Daily Strengthening Oil Lotion, and this is the gamer changer product. I applied this product then began to blow dry my hair and wow, the results were truly amazing. I honestly felt that after this product I didn't even need to apply anymore. I was extremely impressed with the results. The product aims to Boost hair strength by adding keratin as protein bonds are broken during relaxing and Nourish hair, preventing breakage and gives hair smooth and shiny finish.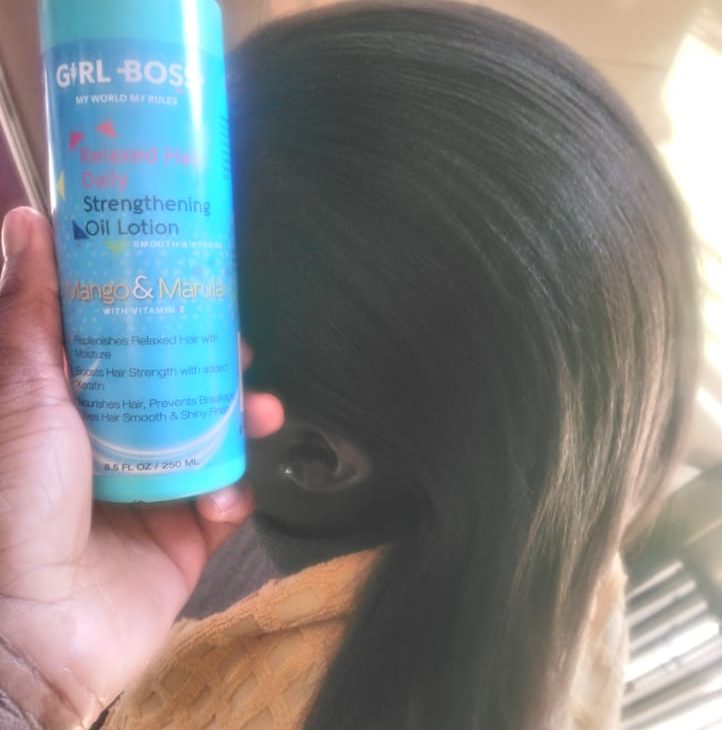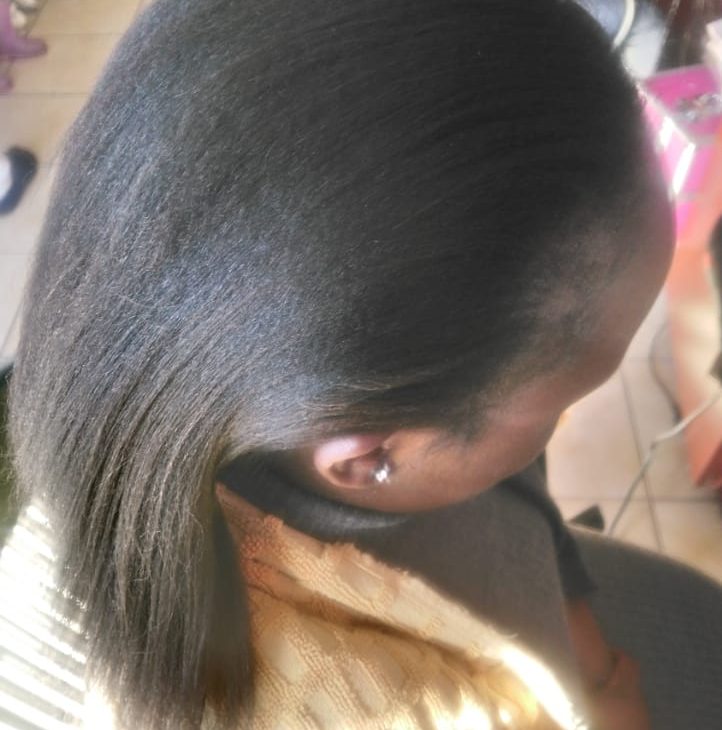 We then applied the growth hair food on my scalp. This product aims to nourish and strengthen hair and Keep hair moisturised and protects against breakage and split ends
Ingredients in the growth hair food: Mangifera Indicus (Mango) Butter, Sclerocarya Birrea (Marula) Oil, Ricinus Communis (Castor) Oil, Butyrospermum Parkii (Shea) Butter, Hydrolysed Keratin, Tocopherol Acetate (Vitamin E), Panthenol, Phenoxyethanol, Parfum – Information take from the Girl Boss website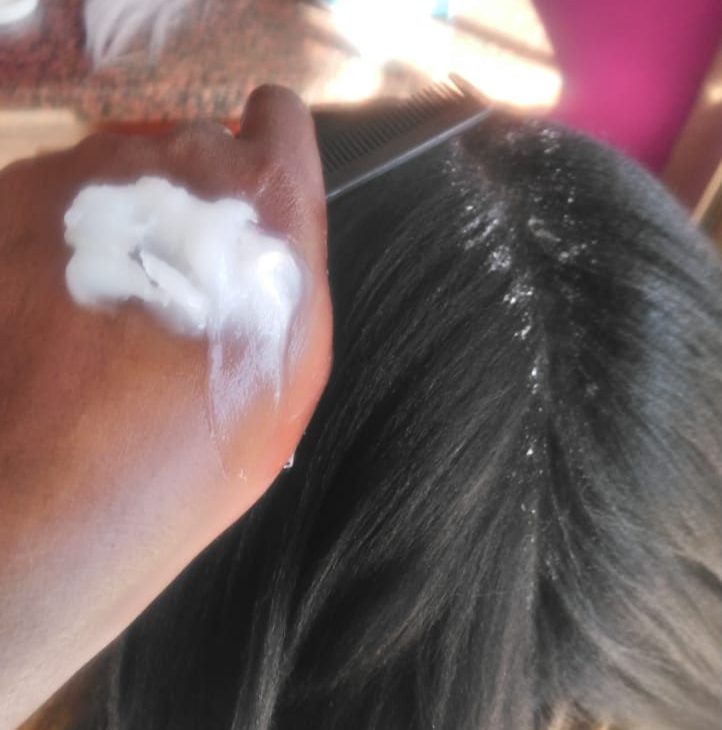 Ingredients in the Daily Strengthening Oil Lotion: Aqua, Aloe Barbadensis (Vera) Juice, Sclerocarya Birrea (Marula) Oil,Cetrimonium Chloride, Behentrimonium Chloride, Ricinus Communis (Castor)Oil, Vegetable Glycerine, Mangifera Indicus (Mango) Butter, DimethiconeCopolyol, Hydrolysed Keratin, Tocopherol Acetate (Vitamin E), Panthenol,Methylparaben, Fragrance, Citric Acid, Disodium EDTA – (Information taken from GirlBoss Website)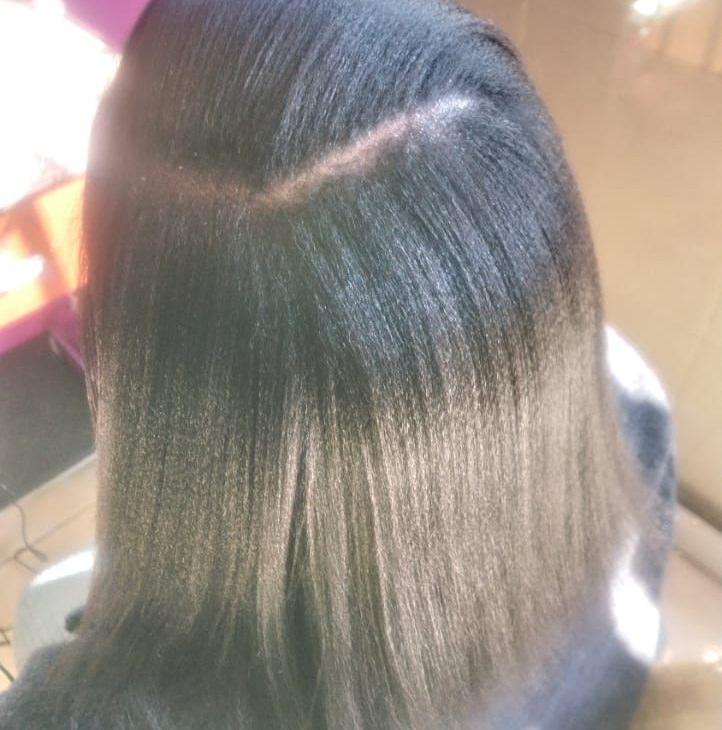 I also received the strengthening hair mask; however, I haven't used it yet. This product aims to Fortifies hair follicles and nourishes hair and scalp. Infuses hair with rebuilding and strengthening protein to reverse damage from the relaxer
Ingredients in the strengthening hair mask: Aqua, Aloe Barbadensis (Vera) Juice, Sclerocarya Birrea (Marula) Oil, Cetrimonium Chloride, Behentrimonium Chloride, Ricinus Communis (Castor) Oil, Vegetable Glycerine, Mangifera Indicus (Mango) Butter, Dimethicone Copolyol, Hydrolysed Keratin, Tocopherol Acetate (Vitamin E), Panthenol, Methylparaben, Propylparaben, Fragrance, Citric Acid, Disodium EDTA –(Information taken from GirlBoss Website)
Verdict
I am really impressed with these products. I even took it a step further and asked my hairdresser to try some of these products with her other customers, her comments were 'I love the softness these products add to hair. I am thoroughly impressed'. She is absolutely sold on the shampoo from Girl Boss she said 'I have been comparing it to my other products that I have been using on clients and I am really impressed with the girl boss shampoo product. I will be using it going forward'
For relaxed hair, I would thoroughly recommend these products. I will be using these products on a regular going forward. Check these products out on their website https://girlbosssa.com/ and Instagram
https://www.instagram.com/girlboss_sa/ . They are available at Game Stores Nation Wide